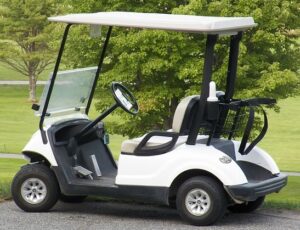 With the weather getting warmer, we wanted to take a moment to let everyone know that 2022 golf cart permits are available, and applications for permits are ready to be received. A friendly reminder that golf carts may only be operated on the streets of the city by persons possessing a valid Iowa operator's license, and at least eighteen (18) years of age. Here is a link to the city ordinance regarding operating a golf cart on any city street:
And here is a link to the Permits, Licenses, & Forms page of the city website where you can find the golf cart permit application you will need to fill out.
Permit applications may be dropped off at City Hall during regular business hours Monday through Friday, where we will also make a photocopy of the applicant's driver's license. The fee for 2022 remains $5.00. Permits and stickers will be issued on site upon completion and fee payment.
If you have questions, please feel free to reach out to City Hall and we'll be happy to help!